Online yarn shopping can be a bit of a mine field. It's so hard to choose yarn just based on a picture. When the description says that the yarn is "super soft" what does that actually mean? How can you tell without holding the skein, squishing it and examining it in hand. I always order yarn online with a healthy dose of caution!
Having said that, I recently received a lovely package from Kraemer Yarns with a selection of colors from their Tatamy Tweed Worsted range, and I have to say that I am so impressed with this yarn! The colors are just gorgeous and have a very natural and luxe feel to them, which is right up my alley. You can have a look at all the colors available here. They have a lovely range of neutral and naturals as well as playful and bright, all with that lovely tweed feel to them.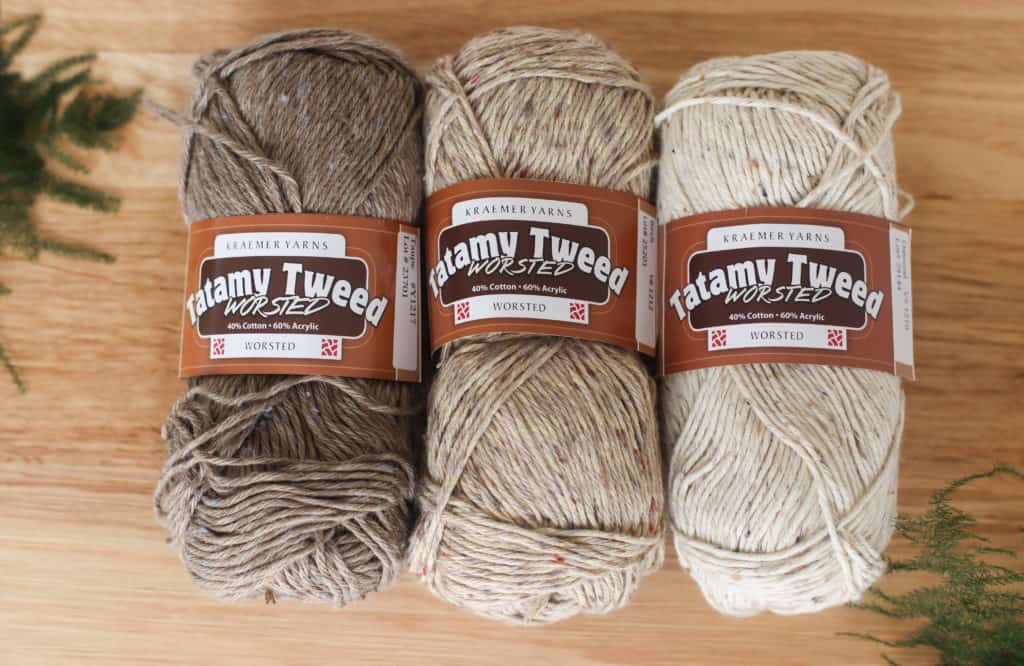 Tatamy Tweed Worsted is a cotton-acrylic blend (40% Cotton and 60% Acrylic) which gives it a lovely weight. Interestingly, I recently worked on a project using a Caron Cotton Cake which has the same composition (40% Cotton and 60% Acrylic) and it feels completely different. The Caron Cotton Cake definitely had a more acrylic feel to it, while the Tatamy Tweed is all about that lovely, soft, high end cotton. But, even though it has a high end feel to it, it is easy to care for. It can be machine washed AND tumble dried – as a mom to a toddler (who has zero time to do hand washing) this is a huge plus. This lovely yarn also doesn't carry the high end price tag. It is also very easy to work with; it didn't scratch, itch or hurt my hands, and none of that dreaded squeaking on my hook or needle!
You may be able to see from the picture below, there are small flecks of color spun into the yarn which gives gives the most delightful depth and "tweedy" character to a finished piece. Some people have reported that it sheds a bit while working up, but I didn't find any evidence of this.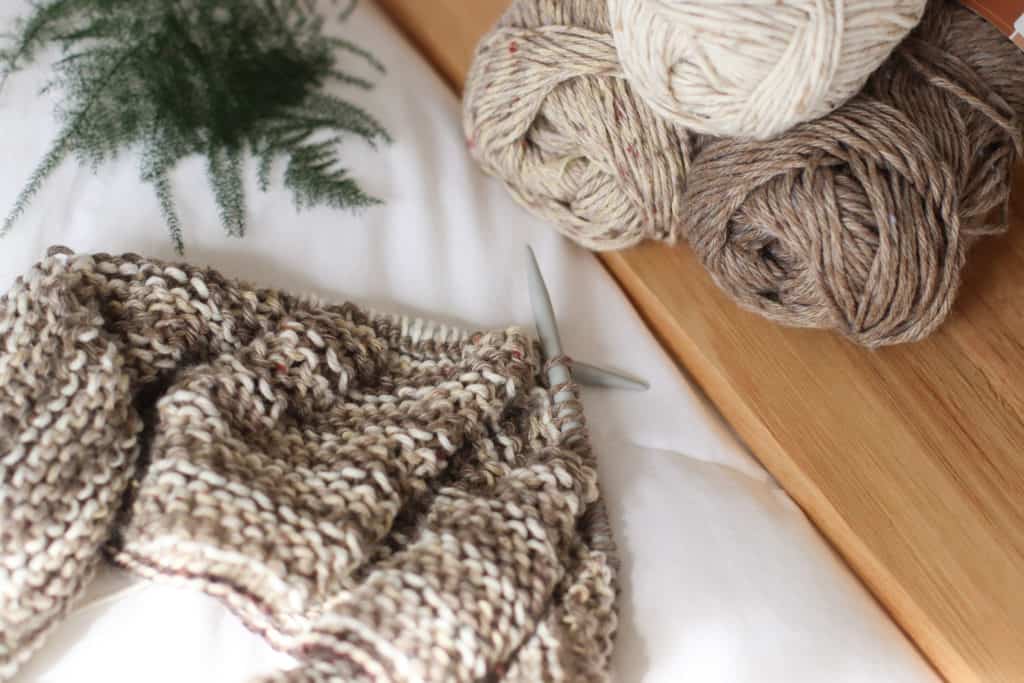 Projects
If you are after a lighter weight version of this yarn, Tatamy Tweed DK is also available. It has a slightly different composition, but the same colorways as the Worsted yarn are available.
Because of the cotton component, this yarn is a great option for lighter weight projects that can be worn through out the year. I decided to make the Garter Stitch Shawl (a free pattern on the Kraemer website) which is part of the Festival Wear collection. As a novice knitter, I was a little nervous of taking on a shawl pattern (on circular needles!) but this pattern is very easy and the end result is gorgeous! I ended up making my shawl slightly narrower so it is more of a chunky scarf and I just love it. Don't you think the mottled texture is just so pretty?
For those of you wanting to make your own Garter Stitch Shawl, you will need 4 skeins of Tatamy Tweed Worsted in different colors. This pattern uses a 4 color repeat, but I decided on a 3 color repeat using Oatmeal, Birch and Taupe (1 skein of each for a narrower shawl). The shawl is worked on 6mm circular needles and you work the fringe as you go.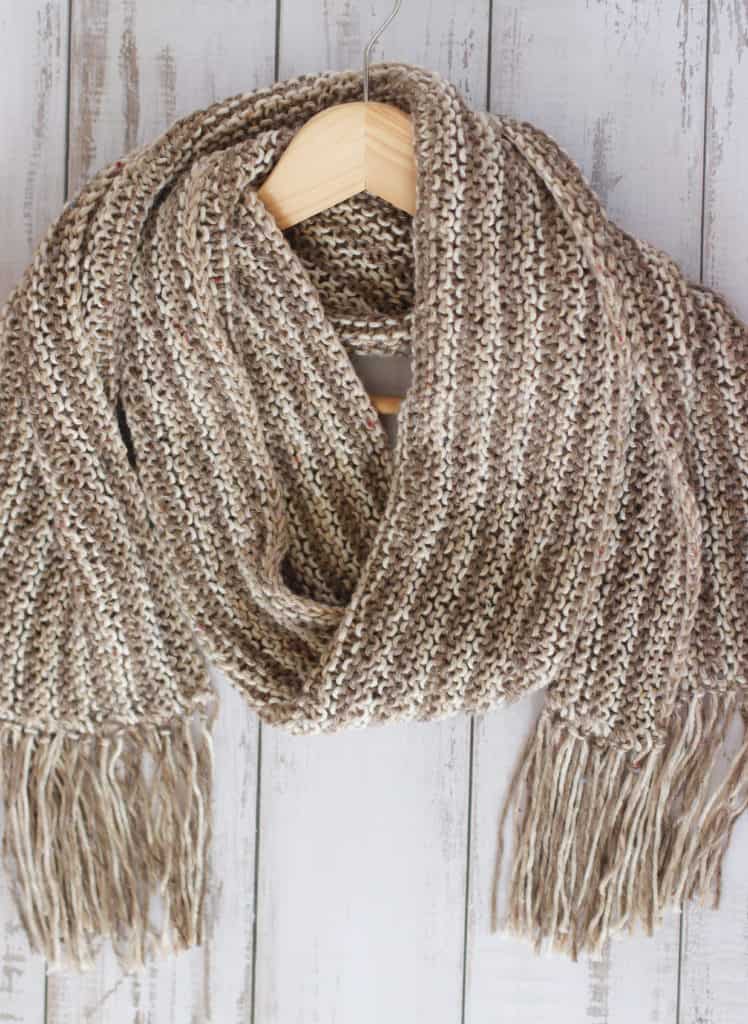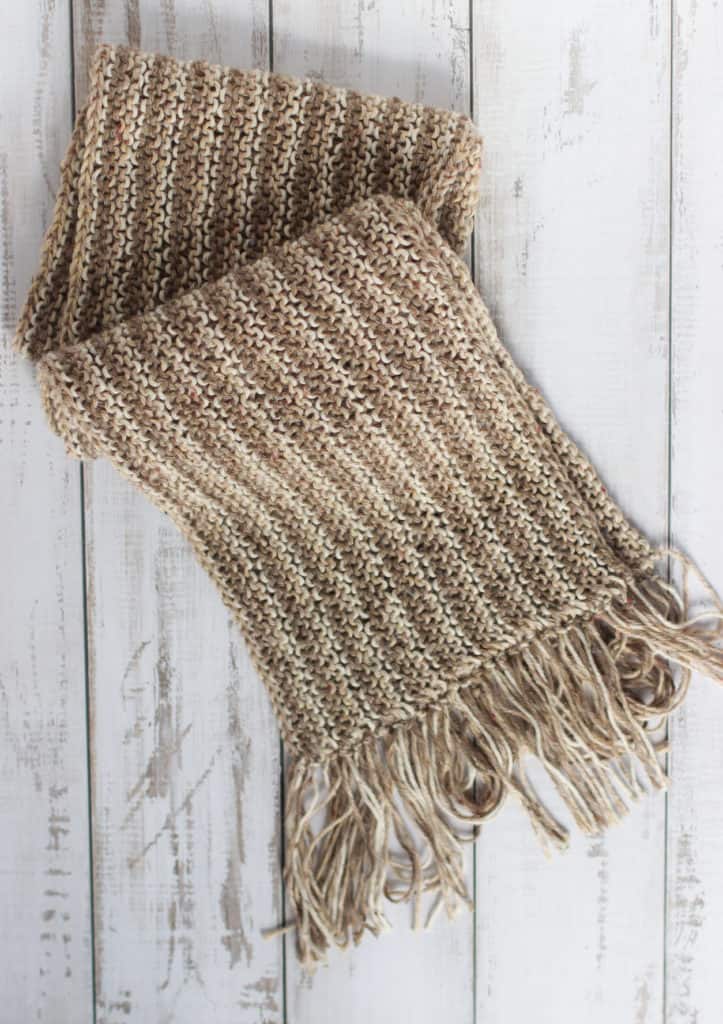 All in all I'm very impressed with this lovely yarn and I'm already thinking up my next project! Happy stitching everyone.
Yours in craft,
Caitie
Quick Yarn Facts
Yarn name: Tatamy Tweed Worsted
Manufacturer: Kraemer Yarns, USA
Fibre Contnent: 40% Cotton, 60% Acrylic
Retail price: $5.90
Weight: 3.5 oz. / 100 g, approximately 180 yards
Where to buy: Online (they ship internationally!) or at various retailers in the USA and surrounds
Colors used in review: Birch, Oatmeal, Taupe
Care instructions: Machine washable, can be tumble dried
Review date: August 2019