For those of you who follow me on Instagram, you may have noticed quite a few stories about the drought that we are currently experiencing in Cape Town. We are on very hefty water restrictions at the moment. This means that we can't water the garden or fill swimming pools and even things like flushing the toilet have become a big deal!
Everyone here is obsessed with how to save water. One of the things I've had to mourn was the loss of my lovely, English country style garden. It's simply not practical in our current situation. While we have had lots of winter rain and the restrictions have been somewhat relaxed, we are far from being out of the woods.
So, in an attempt to have some more waterwise plants in our garden (so that we can have some green this summer!) I've planted quite a few succulents. They have brought me much more joy than I thought they would! The crochet cactus wall hanging was made in honor of my new found fondness of waterwise plants.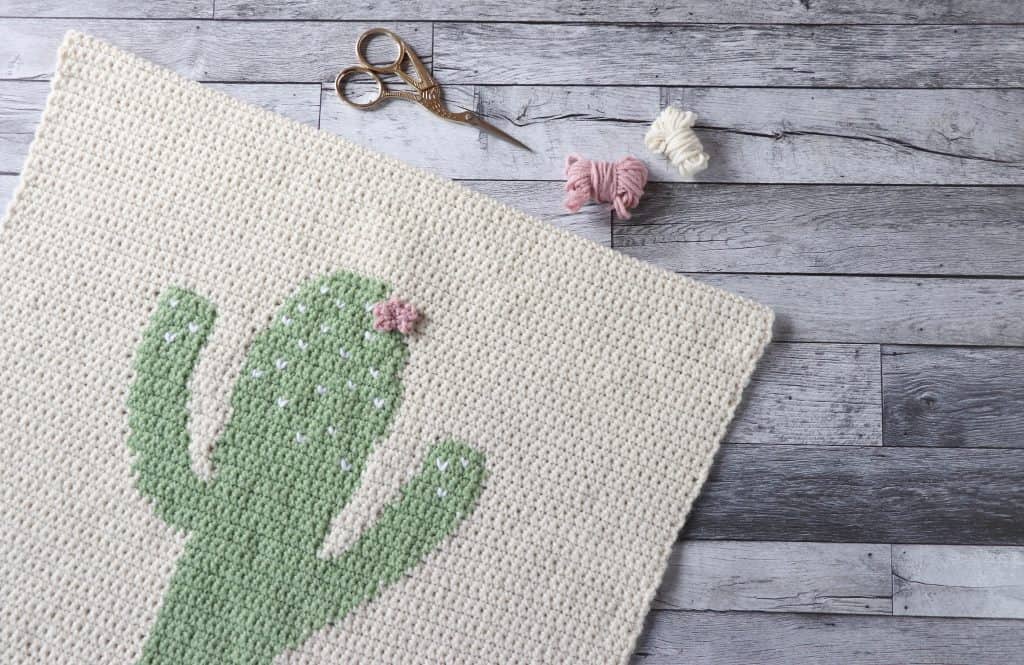 Crochet cactus wall hanging
This crochet cactus was originally going to be a cushion*, but I discovered the most gorgeous pom pom edging, and so decided to turn it into a wall hanging instead. It seems like both cacti and wall hangings are really popular at the moment, so it's a win-win!
* You could very easily convert this into a cushion by making a back panel the same size as the front and stitching it together!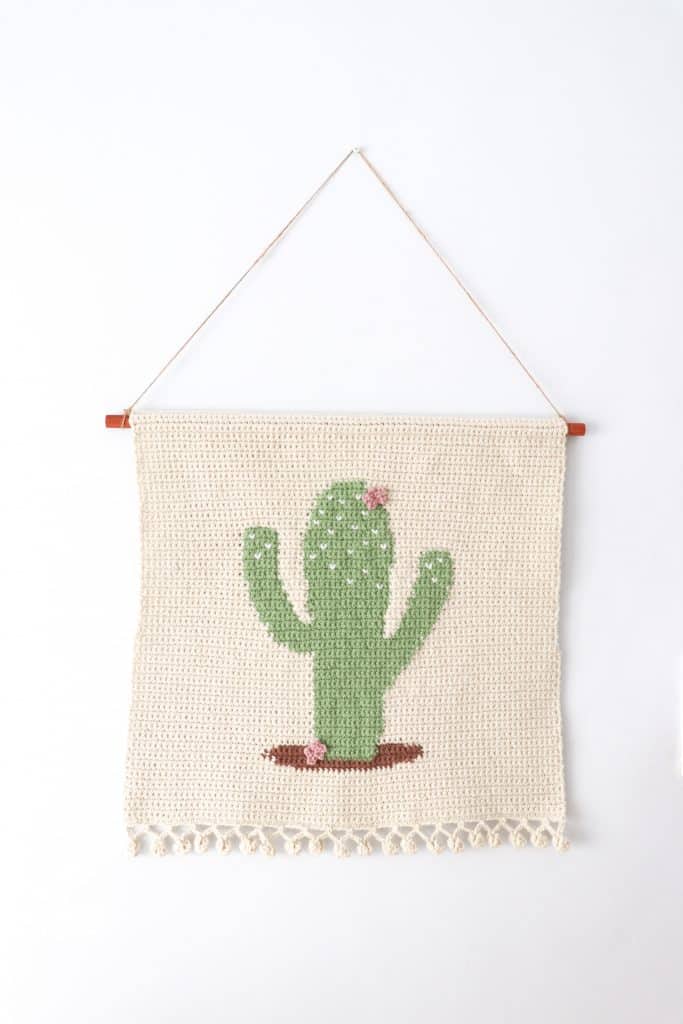 This wall hanging is made using a technique called tapestry crochet. Tapestry crochet is essentially paint by numbers, but with yarn! When you first look at a tapestry chart, it can look really overwhelming. I promise you, though, that once you get going it's really not too complicated.
To do tapestry crochet, all you need to know how to do is a chain, single crochet and color changes. That's it! If you have not done color changes before, you can have a look at my photo tutorial here. This particular pattern is great for a beginner. The crochet cactus only use 3 colors on the panel and so won't get too tangled up.
Where to get the crochet cactus wall hanging? It's available at any of my online stores, for just a few dollars! By supporting any one of my online shops, you allow Thoresby Cottage to keep on running and bringing you great free and paid patterns, so thank you!
Until next time,
Yours in craft,
Caitie x